Organizational Membership
BNID's membership program brings together organizations from across the Greater Boston area to support deeper connection and exchange.
Together with our members, we cultivate a range of workshops, resources, and discussion spaces designed to support more impactful programs, a thriving workforce, and overall organizational health. This includes member-identified priorites such as board development, fundraising, skills-based trainings, roundtable discussions on current events, and more.
Our membership program also fosters more robust relationships among Boston-based international NGOs and seeks to break down siloes across sectors and geographies.
Membership benefits
Organizational members receive a wide range of benefits, including:
Unlimited job and event postings on our website
Access to member-only events (e.g., roundtable discussions, webinars and trainings, social events, etc.)
Themed meet-ups by sector or technical focus
Pro bono legal drop-in hours (in partnership with McDermott Will & Emery)
Spotlights in our newsletter, social media, and other outlets
Ability to post articles in our blog about projects, publications, events, etc.
Opportunity to co-host events with BNID
Membership rates
Membership rates are determined by annual operating budget. We want to ensure that BNID's resources remain accessible to any interested organizations.
$100/year for Annual Operating Budget of less than $249k
$200/year for Annual Operating Budget of $249k-$999k
$500/year for Annual Operating Budget of $1M-$9.9M
$1000/year for Annual Operating Budget of $10M+
If you have questions about becoming a member, please contact Nanako Tamaru, [email protected].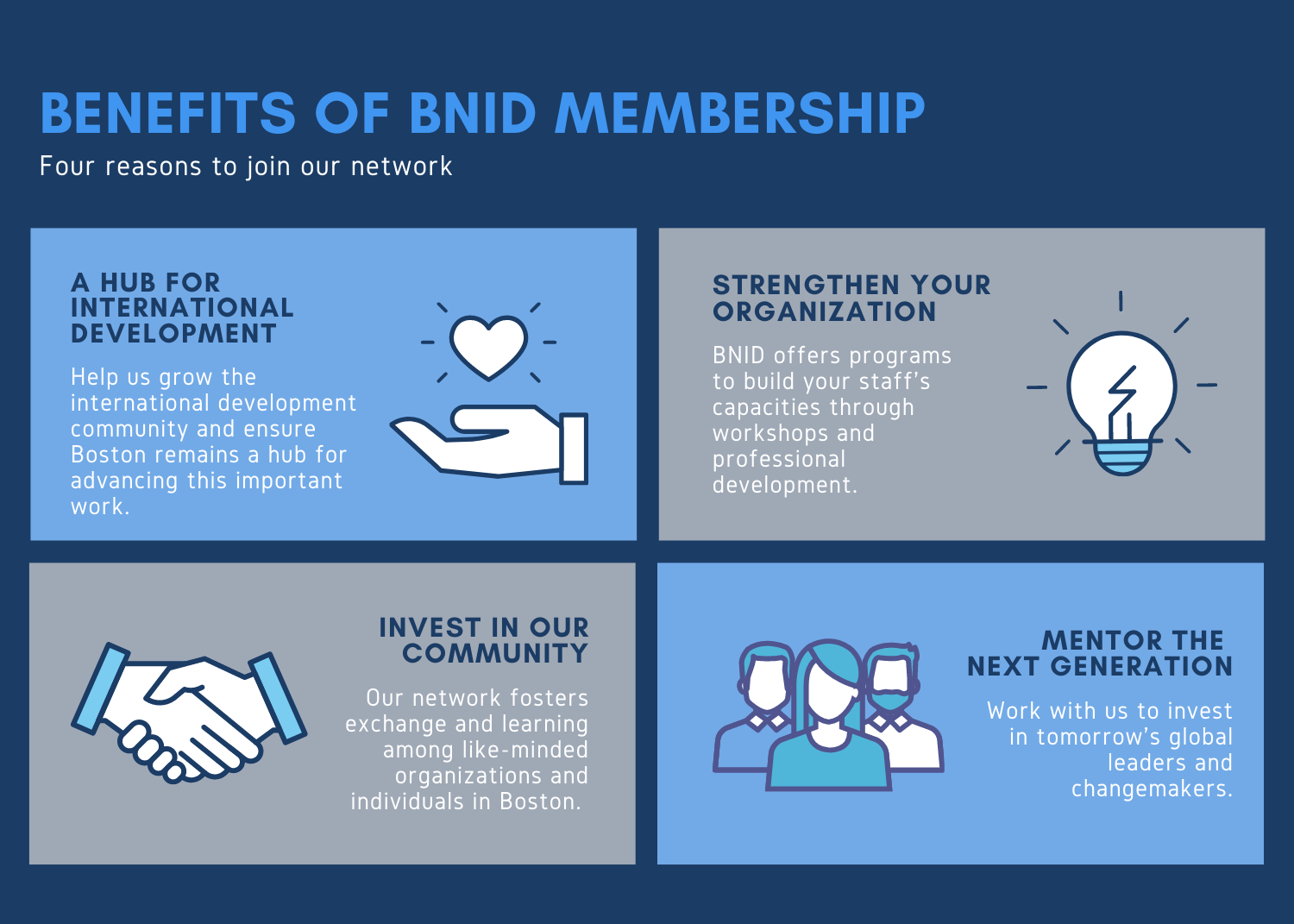 Who is eligible for a membership?
Membership is open to any organization working in the field of international affairs with a presence in Greater Boston/New England. This includes a broad range of sectors, such as humanitarian response, sustainable development, peacebuilding, human rights, public health, education, diplomacy, philanthropy, etc.
Can individuals or academic institutions sign up for an organizational membership?
Individuals can continue to enjoy all of BNID's services and events without having to pay a membership fee. Our networking and other events may include an admission fee.
Academic institutions interested in working with BNID should consider joining AID in HigherEd - our network for higher education institutions in Greater Boston.