Organizational Memberships
In 2021, BNID launched a paid membership model for organizations in the Greater Boston area. This is a big step forward forward for BNID; it will help us to grow as a network and increase our reach and programmatic offerings.
Only paid organizational members will be able to post jobs and events on our website/newsletter and enjoy other membership benefits, which include:
Unlimited job and event postings on our website and newsletter
Spotlights in our newsletter, social media, and other outlets
Access to member-only events (e.g., professional development opportunities, roundtable discussions, networking with donors)
Ability to post articles in our blog about your projects, publications, events, etc.
Opportunity to co-host events
Themed Slack channels with other members (forthcoming in 2022)
If you have questions about the new membership model, please contact Nanako Tamaru, [email protected].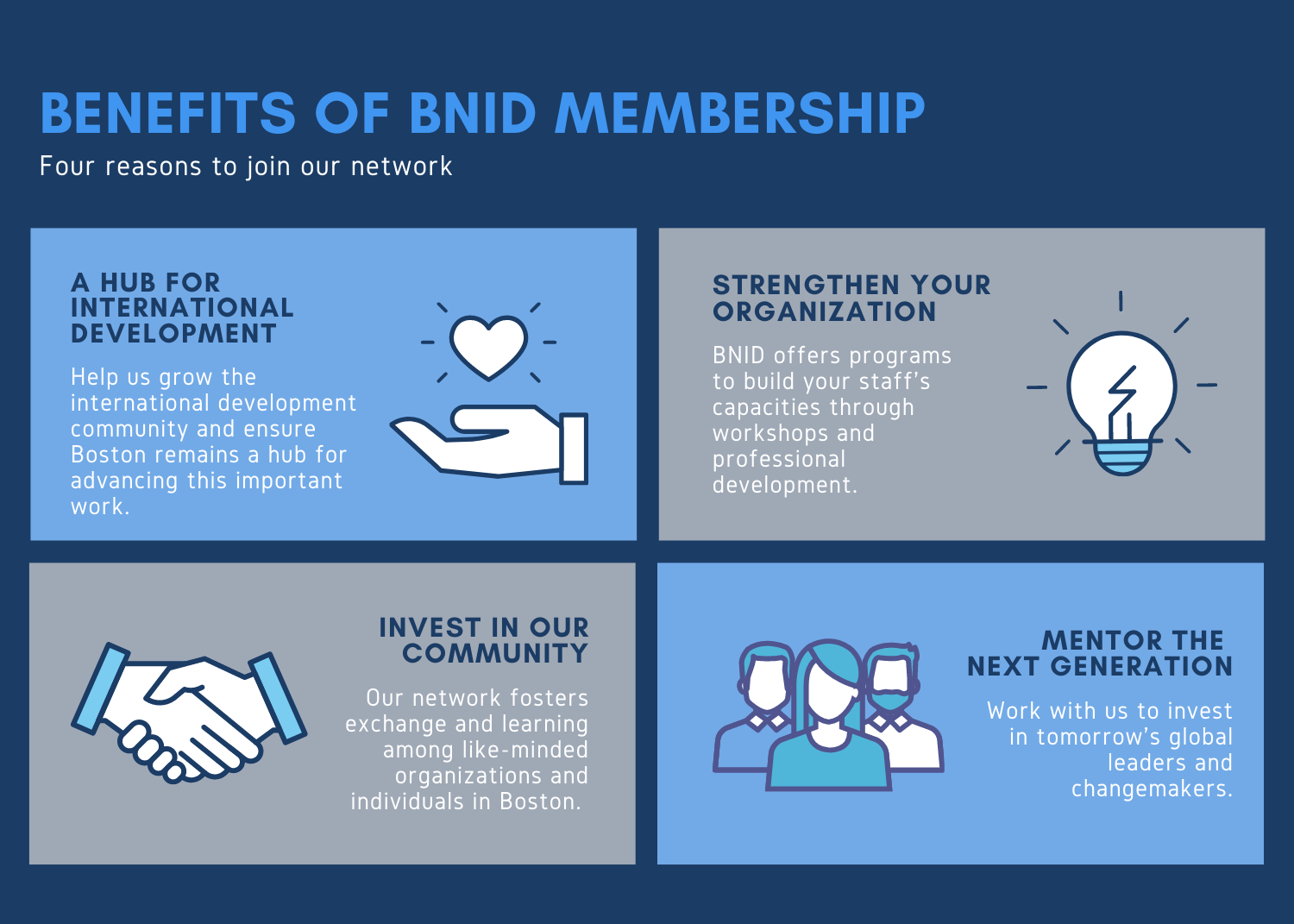 Who is eligible for a membership?
Any organization with a presence in the Greater Boston area working in the field of international development. This includes a broad range of sectors, such as humanitarian response, peacebuilding, human rights, public health, education, diplomacy, philanthropy, etc.
What are the membership rates?
Membership rates are determined by annual operating budget. We want to ensure that BNID's resources remain accessible to any interested organizations.
$50/year for Annual Operating Budget of less than $249k
$100/year for Annual Operating Budget of $249k-$999k
$200/year for Annual Operating Budget of $1M-$9.9M
$300/year for Annual Operating Budget of $10M+
Do individuals or academic institutions need to sign up for a membership?
Individuals can continue to enjoy all of BNID's services and events without having to pay a membership fee. For some events, we may continue to encourage attendee to make a small, voluntary donation.
Academic institutions interested in membership should reach out to Nanako Tamaru, [email protected], to discuss sponsorship opportunities. Our sponsorship agreements are similar to organizational memberships, but are tailored to the needs of each individual academic institution and their students.
Register for an organizational membership here.