Boston Network for International Development
Programs Associate - Consultancy Description
The
Boston Network for International Development (BNID)
is seeking a Programs Associate to lead the operations, administration and coordination of ongoing efforts such as our website, newsletter, and events. Because BNID is a small and mostly volunteer-run organization, this role is part-time (~8-10 hours per week) and flexible (work remotely and on your own schedule).
This is a part-time consultancy opportunity for an independent contractor, someone looking for a mission-driven side gig, or anyone who has a flexible schedule and is interested in strengthening Boston's international development network.
About BNID:

BNID was founded in 2004 with the goal of serving as a point of connection for the Greater Boston area on issues of international development and global justice. We define "international development" broadly - our network includes individuals, INGOs, universities, and others engaged in a wide variety of sectors including humanitarian aid, peacebuilding, education, public health, diplomacy, and so much more.

As a network hub, BNID brings people together - we provide a space for the international development community to grow and learn together. We organize social events as well as programs on current trends, career development, knowledge sharing, non-profit management, etc. BNID also aims to raise the profile of Boston as a hub for international development.

About the Consultancy:

The Programs Associate works closely with the Executive Director, Board Chair, and other Board members. BNID is run by a fully-remote and part-time staff, so we are looking for a self-starter who can independently manage projects and events. The Programs Associate is expected to proactively contribute to the BNID team and bring creativity, curiosity, and solutions to the fore.

The responsibilities of the Programs Associate include:
Program Management: Manage events, which include "lunch and learn" sessions with academic partners, networking events, and others. Work with strategic partners, Board members, and Executive Director to design and implement programs.
External Partnerships: Support relationship building with INGOs, universities, and others to strengthen and deepen BNID's network.
Internship Program: Oversee interns throughout the academic year and summer.
Email Management: Manage BNID's primary email account and act as first point of contact for those interested in BNID.
Newsletter: Every other week, draft the newsletter that we send out to 7,500 people.
Social Media: Manage BNID's social media accounts across Facebook, Twitter, LinkedIn, Instagram.
Website: Approve and post jobs and events on the backend of BNID's website.
Blog: Serve as lead editor; develop strategy and conduct outreach to engage INGOs, academics, and other contributors to BNID's blog.
Maintain internal operations systems, including Google Drive.
Other administrative and communications tasks as they emerge.

Time commitment: Approximately 8-10 hours per week. Meetings, events and other commitments take place at varying times, so this position requires some flexibility, including periodic availability during regular business hours.

Consultant Stipend: $350 per month


Duration: January 2023 - January 2024


Location: Greater Boston area (within ~50 mile radius of Boston, with a willingness to travel for occasional in-person events)


Supervisor:
The Programs Associate reports to the Executive Director and works closely with the Board Chair and other Board members.
Skills and Qualifications:
Degree or equivalent experience in international development, global justice, political science, or a related field
At least 2-3 years of work experience in a similar operations and/or administration role
Strong management and organizational skills
Ability to work independently and take initiative in resolving problems
Ability to work effectively with collaborating groups
Strong writing skills
Demonstrated project management and event planning skills
Social media/communications experience
Graphic design skills (e.g. Canva) desired
Application Requirements:
Please apply by completing the
Google Form application
by
November 18
. Applications will be accepted on a rolling basis.
NOTE: We will begin interviews before the November 18 deadline and strongly encourage candidates to apply early.

BNID's Commitment to Diversity, Equity, and Inclusion (DEI):
As we work to improve our practices around diversity, equity, and inclusion at BNID, we're interested in candidates who will be equally committed to our vision of improving our practices for racial, gender, and social justice. We value the leadership of People of Color, LGBTQIA+ individuals, disabled persons, and other marginalized communities, and encourage candidates who reflect all forms of diversity to apply.
Please direct any questions to
[email protected]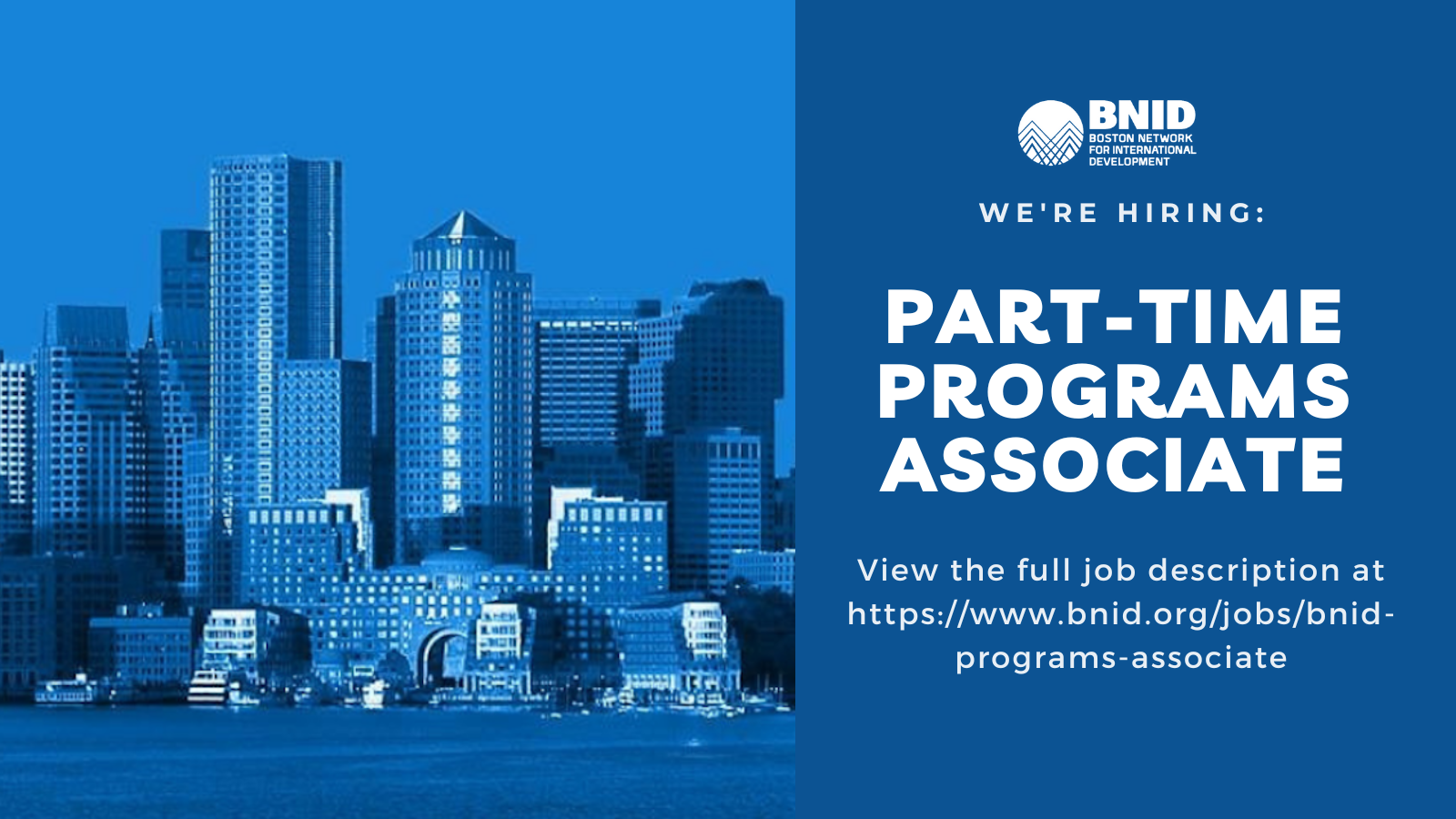 Organization

Boston Network for International Development (BNID)

Type

Job Posting Expires On

12/17/2022
---