Add to Calendar
06/07/2021 09:00
06/07/2021 17:15
America/New_York
Inclusive Innovation: Designing for a Better World
Five-day course in Participatory Design, an evidence-based, innovation-driven, problem-solving approach pioneered by MIT D-Lab.
https://professional.mit.edu/course-catalog/inclusive-innovation-designing-better-world?utm_source=mit-dlab&utm_medium=web&utm_campaign=sp-iid-2021
[email protected]
MIT D-Lab, 265 Massachusetts Avenue, (MIT N51-310) Cambridge, MA 02139
MM/DD/YYYY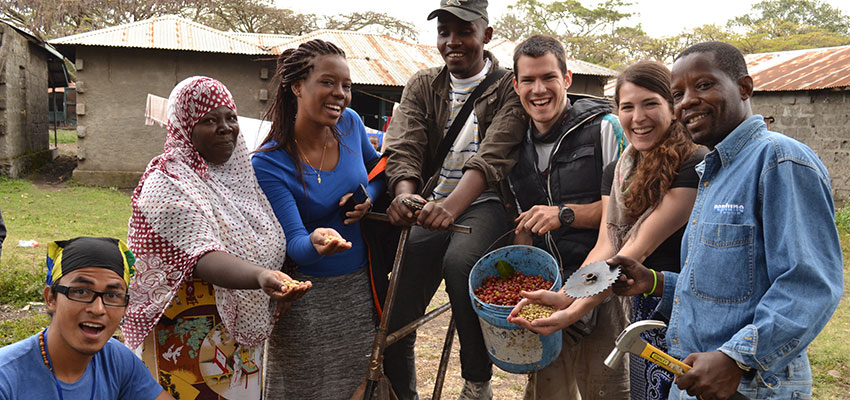 International design team from International Development Design Summit 2014 tests low-cost coffee bean sheller prototype with farmers in Tanzania.
Participatory Design is a process that engages the individuals who are affected by the challenges and will benefit from the resulting innovation
Innovation doesn't just generate profits—it can also make the world a better place by addressing some of our most pressing humanitarian challenges. This course delves into an evidence-based, innovation-driven, problem-solving approach called Participatory Design.
Pioneered by MIT D-Lab, Participatory Design is a process that engages the individuals who are affected by the challenges and will benefit from the resulting innovation. In this five-day course, nonprofit and corporate leaders will acquire essential frameworks and fundamental tools and learn how to apply them to their own mission.
Course Schedule (2020 version)
Earn a Professional Certificate in Innovation and Technology
This course is offered through MIT Professional Education and may be taken individually or as a core course for the Professional Certificate Program in Innovation and Technology.
Date(s): Jun 07 - 11, 2021
Registration Deadline: May 17, 2021
Location: Live virtual
Course Length: 5 half-days
Course Fee: $2,900
CEUs: 1.7 CEUs
Course Schedule 2021: Linked here
Register: Here
$300 off if you register by December 1 using the code 'DLABEARLY'

Participant Takeaways
After this course, participants will be able to:
Define inclusive innovation and its components in the context of global development
Distinguish between the three types of Participatory Design and the contexts in which each may be most useful
Recognize and mitigate the power dynamics and barriers that may impact the innovation process
Apply frameworks and tools aimed at facilitating the Participatory Design process among diverse stakeholders
Identify and understand the actors and factors that enable and inclusive innovation ecosystem
Connect with like-minded organizations who use Participatory Design in their work
Discover how to partner with MIT on inclusive innovation opportunities
Who Should Attend
This course is particularly well suited to professionals working in international development, community organizing, or diplomacy, poverty- and hunger-related issues, corporate social responsibility, grantmaking and philanthropy, global health, government service, social entrepreneurship, technology development, STEM education, and higher education.
Attendees often include:
Directors and Managers of Partnerships, Strategy, Programs, New Business Development, Training, Research, Outreach and Communications, Monitoring and Evaluation, Product Development, Finance and Operations
Engineers
Researchers
Instructors and guest lecturers
In addition to MIT D-Lab Founding Director Amy Smith and Faculty Academic Director Maria Yang, the course will feature the following:
Amanda Epting, MIT D-Lab Inclusive Business Manager
Dan Frey, MIT Professor of Mechanical Engineering and MIT D-Lab Faculty Director
Elizabeth Hoffecker, MIT D-Lab Research Scientist, Local Innovation and Development
Libby Hsu, MIT D-Lab Lecturer and Academic Program Manager
Kendra Leith, MIT D-Lab Associate Director for Research
Libby McDonald, MIT D-Lab Lecturer and Inclusive Economies Specialist
Bhaskar Pant, MIT Professional Education Executive Director
Course curator: Sher Vogel, MIT D-Lab Global Trainings Manager
***Given the ever-changing information, guidance, and state of public health and safety, D-Lab will reassess with the MIT Professional Education office in late August if / how our course plans may need to adapt or shift, and we will inform all registered participants of these changes. Should it become necessary to cancel your enrollment due to COVID-19 restrictions, MIT Short Programs will waive all cancellation fees and issue you a full refund. Please reach out to [email protected] with any questions or concerns, you may have about registration fees. For questions related to visas, please review the information on their Travel & Arrival page. You can stay up to date on their COVID-19 updates here.
---
For more information and to register
Contact
Sher Vogel, MIT D-Lab Global Trainings Manager
Date and Time

Starts on 06/07/2021 at 9:00 AM
Ends on 06/11/2021 at 5:15 PM

Location

MIT D-Lab, 265 Massachusetts Avenue, (MIT N51-310) Cambridge, MA 02139

Email

Website
---