Author

Bridget Sakowski

Published

06/20/21
Over a year into the Covid-19 pandemic with compounding stress, workplaces have continued to be sites in which employees cannot show up as their full selves. Work is often a place where people are retraumatized and where new traumatic experiences take place.
As the constraints of capitalism have grown, exploitation and traumatization in the workplace have become even more apparent. This necessitates a trauma-informed approach that recognizes the way that trauma shows up for all and provides opportunities for holistic wellbeing. It can be understood as an environment that "realizes the widespread impact of trauma and understands potential paths for recovery; recognizes the signs and symptoms of trauma in clients, families, staff, and others involved with the system; and responds by fully integrating knowledge about trauma into policies, procedures, and practices, and seeks to actively resist re-traumatization". Without action, many will leave the job market as women have throughout the pandemic.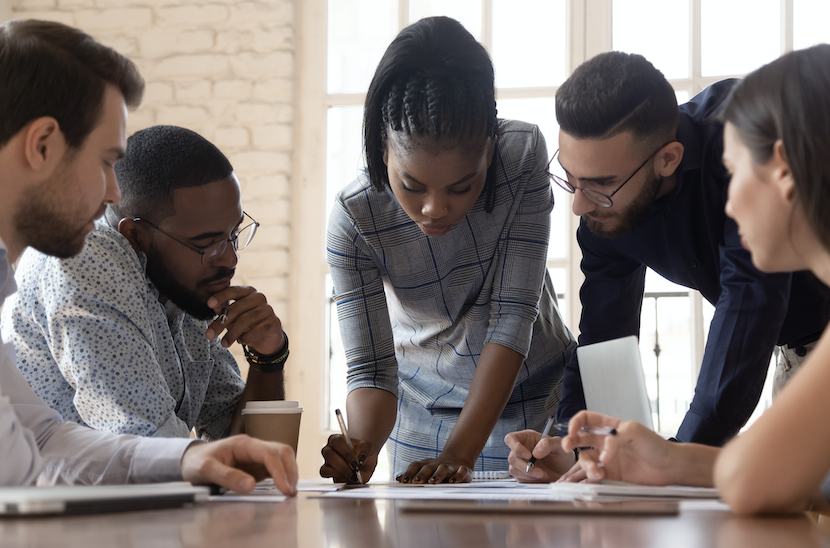 Experiences of trauma are not isolated events, particularly in this current moment when people are living the whole of their lives from inside while the pandemic rages on and on-going systemic oppression runs rampant. The U.S. Centers for Disease Control and Prevention found that anxiety symptoms tripled, and depression symptoms quadrupled amongst the 5,470 sampled adults compared to 2019. Research from Boston University furthers this point by comparing this current moment to the collective trauma during September 11th, Hurricane Katrina, and the Hong Kong protests.
Those who are low income people, people of color, and those who have lost a loved on to Covid-19 are
even more impacted
. This is occurring alongside recent data that has shown that a staggering
5.7% of all people in the US over the age of 13 will develop PTSD
during their lifetime. This is an astronomical impact that needs to be addressed as we continue to navigate the pandemic and move forward through its future iterations.
While the Covid-19 pandemic is significantly impacting mental health, the on-going racism experienced by people of color in this country, particularly Black and Asian Americans in this moment, is causing further harm. The trauma includes both highly visible incidents such as the murder of George Floyd to consistent aggressions such as being followed in the store. Both experiences deeply impact mental health, albeit in different ways.

When workplaces do not recognize the experiences of race and the trauma it creates, the trauma remains trapped in the body and can create generational trauma. (Manakem, My Grandmother's Hands: Radicalized Trauma and the Pathway to Mending our Hearts and Bodies) This experience makes it difficult for workers to perform and feel safe in the office. Simply adopting superficial policies will not make workplaces safe and accommodating. Organizations must take an active role in addressing the ways traumatic experiences are created and triggered by creating spaces for workers to identify triggers and set corresponding boundaries.
The longer that trauma in the workplace is ignored and trauma-informed practice is not implemented, organizations and companies will suffer. Although new initiatives can cost more in the short term, trauma informed policies reduce costs long term. One notable effect is decreased retention. This is particularly relevant in caring professions. Additionally, it has been shown to increase profits. In a recent study on the participation of people with disabilities in the workforce, it was found that companies that saw those with disabilities and in important asset had 28 percent higher revenue, net income 200 percent higher, and profit margins 30 percent higher as well as were four times more likely to see higher shareholder earnings. This evidence demonstrates the importance of trauma-informed inclusion in the workplace. As vaccines become more readily available and life begins to return to some version of what was "normal" before, it is important to recognize that not everything needs to return to what it once was. We have all been living under a collective trauma that has taken more than a half million American lives. Workplaces need to reflect that new normal and become trauma informed through peer-support networks, policy changes, and trainings.
About the Author
Bridget Sakowski received her Master of Clinical Worker in Global Practice from Boston College School of Social Work. Her professional experience ranges from conducting individual and group therapy at the Boston Center for Refugee Health and Human Rights to managing human rights programs in the Middle East and North Africa. She can be found here: Bridget Sakowski, MSW | LinkedIn.