Author

Sarah Sceery

Published

03/21/21
It is 6:15am and the smell of fresh bread travels through the grounds of Casa Hogar in Lurin, Lima, Peru. The morning has begun for 72 children, waking up to their daily routines and then off to school. These days, the backpacks are tucked away in storage and there are some changes around the house to keep everyone healthy, safe and academically engaged during the pandemic. Casa Hogar is a youth development home located in one of the poorest suburbs of Lima. Children, families, and staff live in family style units making up a community of over 100 from Peru, Venezuela and Ecuador. Over the years, Casa Hogar has provided children with a safe and caring environment where they gain the confidence to develop skills that empower and enable them for a more promising future.

A look inside the Panaderia, Casa Hogar's own baking workshop funded by generous donors 5 years ago, reveals some younger familiar faces. It is the children of Casa Hogar, led by one of their friends rather than a baker.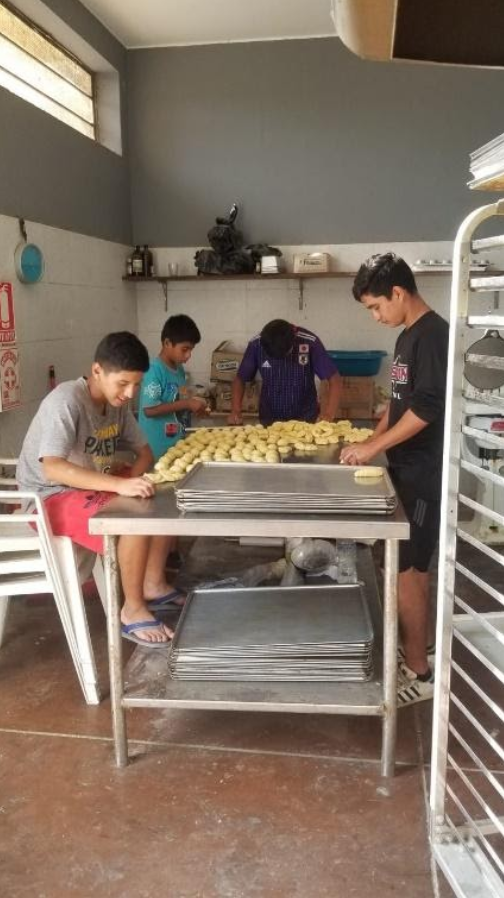 Abraham came to live at Casa Hogar over 9 years ago. He turned 17 in July and is in his last year at Casa Hogar. A well-known face to visitors, what many do not know is during the pandemic he has become the master baker, which these days is an even more essential job. Several years ago, Abraham and other children learned how to bake bread with one of our staff members. Working on a rotating schedule, they would help prepare the dough at night, bake in the morning before school and deliver over 250 pieces of bread to the families for breakfast. Today, with the country still on a tight lockdown and more limited access to outside food, Abraham has stepped in to help. He manages the weekly schedule, oversees the production process, tracks inventory, and manages distribution. At the end of each shift, he heads off to his virtual classes and schoolwork.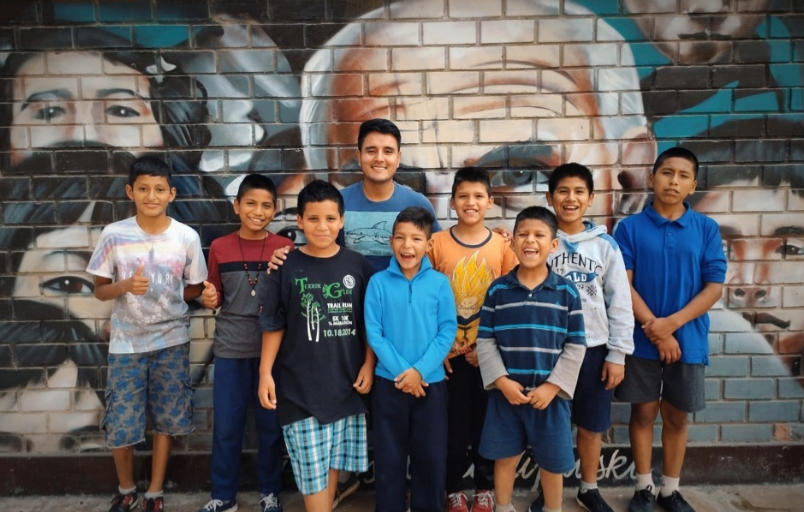 In November, just before his High School graduation, he took on additional responsibilities to begin virtual night classes at a local institute. This head start on a three year business administration certificate will give Abraham the flexibility to work a full-time job after his first year of classes.

Though the year has brought immense challenges for the community at Casa Hogar, Abraham sees the silver lining. "…if not for the pandemic I would not be able to start my night classes at the Institute…with the support of my family teachers, we are making it work…"

Hear Abraham share more about his story here.
He goes on with a laugh about his experience, and sometimes adventures, in the Panaderia, "I like being able to demonstrate things that I've learned here at Casa Hogar. It makes me happy to be able to use these skills to give back during this time of emergency."
Abraham's story is just one example of how the children, families and graduates at Casa Hogar are stepping up to help one another and improve the community around them. The work at Casa Hogar is only possible through the generosity and support of donors from around the world and especially those in the Greater Boston Area. Partnerships with the Peruvian Consulate, New England Based Peruvian cultural groups and the local colleges including Boston College and Merrimack College help Casa Hogar broaden their reach and place global volunteers.
As the central hub for an association of 19 orphanages and local service homes in the area, Casa Hogar aims to impact the community beyond just our children. Through a global network of volunteers and support from around the world, our goal is to engage, integrate and uplift the local community while allowing our children not only to survive, but to thrive. Prior to the pandemic, there were strategic plans to expand Casa Hogar's model and mission to Africa. The hope is that in 2021 those plans can continue.
To learn more about Casa Hogar's programs, involvement and volunteer opportunities please visit: www.homeajpm.org
About the Author
Sarah Sceery is the Director of Development for Casa Hogar. She splits time between Peru, Boston and the Greater Midwest. Prior to International Development, Sarah worked in higher education and shares a passion for building international relationships, economic empowerment and all things related to health. She is a NPH Associate Board Member and holds a B.A. from the University of New Hampshire and a M.S. from Merrimack College.