Author

Rhiana Meade

Published

12/13/20
At Saha Global, our mission is to bring clean water to small rural villages in Northern Ghana. We do this by setting up entrepreneurial women with community-scale clean drinking water businesses that use simple, locally available materials and methods. Our organization was born in the Boston area as part of a master's thesis project at MIT in 2008.

Since then, we've grown to a team of 48 in Ghana, opened 247 water businesses, and trained 740 women entrepreneurs, which has brought clean water access to over 100,000 people. COVID-19 arrived in Ghana in March of this year, throwing a wrench in our expansion plans for 2020. We quickly regrouped and identified three priorities for our COVID response: the health of our staff and partner communities, communicating accurate information, and following the instructions of public health officials. We adopted strict safety measures, shifted as much as possible to working from home, and stayed determined to maintain our service despite these new challenges.
"Back in March, people couldn't pronounce coronavirus, didn't know how to wear a nose mask, and didn't understand social distancing. We would say you need to be the distance of a moto away from each other to understand what '6 feet apart' meant." "Some people thought it wouldn't get to their place, it's only in the cities. We would try to tell them, look, anything can happen – I'm coming from town, other people travel from town too."
-Simplicia Danaa, Front-Line Supervisor

Free Water Mandate
The Saha Global water business model is based on financial sustainability. We donate the capital equipment up front, but then work with the women entrepreneurs to set a price for water that can cover the cost of water treatment supplies and compensate them for their time. We donate a 20-liter safe storage container to each family in the community to create a market for the water, and a safe way to store the water in the home. The businesses are totally community-owned and operated, with no external financial support from Saha.
As part of their COVID-19 response, the government of Ghana announced in April that water for all Ghanaians would be free for three months. The implementation of this program was simpler in urban areas served by the centralized Ghana Water Company – just don't send your customers their monthly bill! Peri-urban and rural communities were told that tanker trucks would service their communities, but we worried from the beginning that many of the places we work would be left out. By the end of the first month of this program, none of Saha's partner communities received free government water from a tanker trunk. At this point, we knew that if we wanted our partners to receive the same benefits as their fellow citizens, we would have to organize free water through our water businesses.
Saha decided to set up an Emergency Coronavirus Water Fund, and fundraised for this express purpose. In order for water to be free for the customers, water treatment chemicals needed to be provided free for the women, but the women running each business who treat the water also needed to be paid for their time. We anticipated a much higher demand for water since it would be free, so we did a simple calculation and decided upon a set stipend for the women running each business. After ensuring each business was ready to operate, we paid the women 150 Ghana Cedi (GHS), about 25 USD, with a promise of a 50 GHS bonus at the end of the month if customers reported easy access to water.
There were a lot of unknowns, and we were a little nervous! This was "breaking the model" in kind of a scary way – in order for our social enterprise model to work, we had spent the last 12 years reassuring communities that Saha neither paid the women nor took any money from the businesses. But we had a mandate from the government to ensure water was free for all, and besides that, we strongly felt it was the right thing to do during an unprecedented pandemic.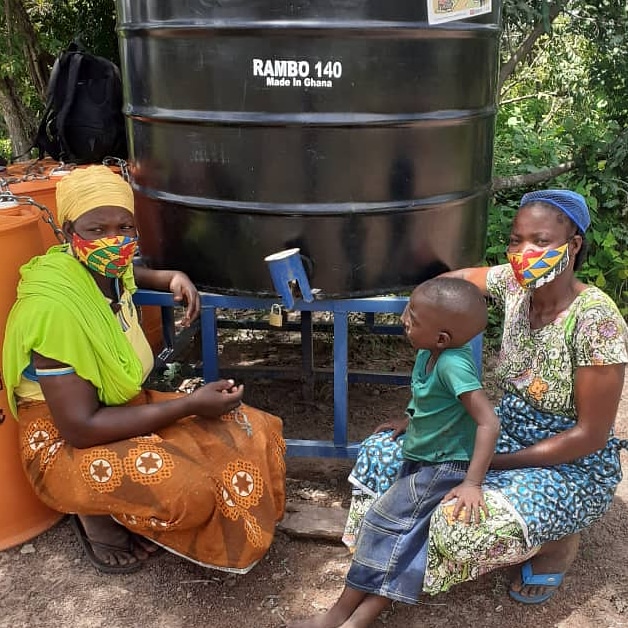 Impact
The free water mandate was expanded twice by the Government of Ghana, for a second three months, and then to the end of 2020. Thanks to this time, we've been able to see the impact of free water throughout the year.
July-September is the rainy season in the north, and during this time plentiful and free rainwater usually slows the water businesses down. This year, we saw water sales increase by 9-fold.
We distributed more than 3000 masks to women entrepreneurs to wear while they work at the business and posted infographics about handwashing and social distancing at all the centers. 98% of customers report social distancing protocols at the business, and 95% of the time our field officers visit, they see the women wearing their masks. Bonuses for excellent service have been paid out to 95%+ of our entrepreneurs monthly. Our entrepreneurs have treated over 7 million liters of water.
Lessons Learned and Looking to the Future
While we are proud of our accomplishments this year, we still have so much to learn from our pandemic experience. Was high demand for water driven by the price of water? Was it more available because the entrepreneurs were more motivated due to their stipends? How did COVID and a focus on health play a part in the demand for water? We don't know yet, but we're excited to find out!
In 2021, we are planning to open more businesses and keep growing. If the COVID-19 pandemic has taught us anything, it's that our mission has never been more important.