Author

Katie Morrow

Published

11/04/21
After traveling to Guatemala to learn Spanish, my teacher, Pedro, who became the co-founder of Limitless Horizons Ixil and was the first in his community to earn a college degree, took me to his village of Chajul, an indigenous Maya community deep in the highlands.
I was shocked by the impact of the 36-year-long civil war on this and so many other indigenous communities in Guatemala, and especially by the poor access to education.
I met Pedro's sisters and could tell that they were just as bright and motivated as he was, but never had the chance to attend middle school just because they were girls. I was moved to help girls like Pedro's sisters to have a chance at an education because I know that educating girls is key to tackling social and gender-based inequality, and contributes to a community's overall well-being.
So, in 2004, I went home and asked 10 friends for $100 each, the cost of tuition that kept kids from attending middle school, to sponsor 7 girls and 3 boys. Limitless Horizons Ixil was born from this investment. I met Boston-based Lindsey Musen in 2007, and she created a strategic plan and got us registered as a US nonprofit in 2008, and has been an incredibly committed board member ever since. Since our start we've grown steadily, supporting 226 students to succeed in school with scholarships, academic support, and wraparound services. In 2010, we opened the first and only community library in Chajul, serving around 500 youth every year.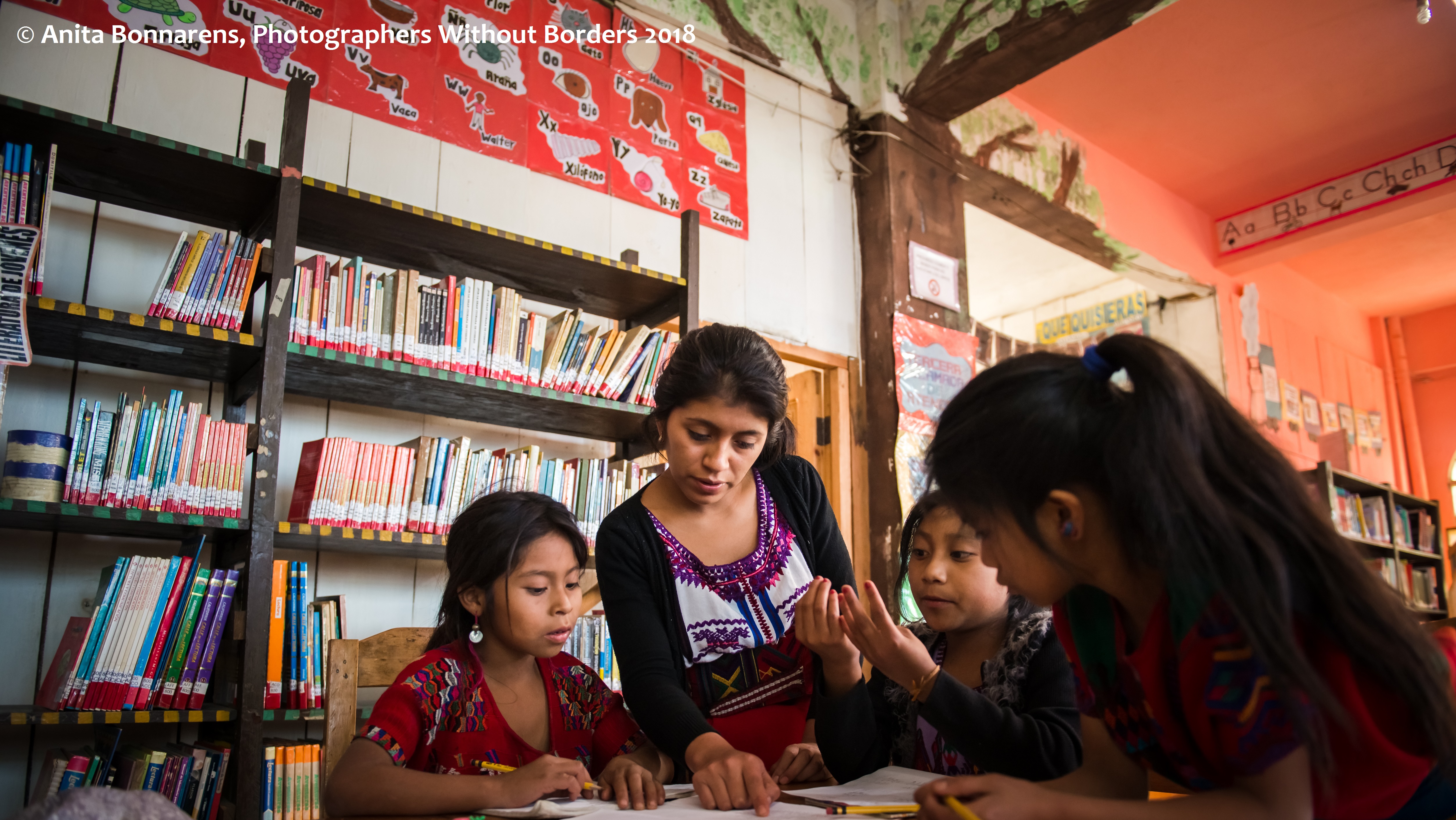 Students collaborating in the library. Photo credit: Anita Bonnaren, Photographers Without Borders, 2018
When we opened the library, there was no space for learning outside of structured classrooms, no books available in the community, and no culture of literacy or reading. We saw that less than 5% of the students that made it to middle school were struggling to read even the very basics. Children wanted to learn and succeed in school, but they didn't have access to books, homework help, or learning support beyond their formal classes. Our library offers an environment conducive to learning, literacy programming, academic support, access to 10,000 books, and STEM activities and supplies. Open to the entire community, the library is extremely popular among young girls, often inspiring them to seek a formal education.
When the first case of COVID-19 was reported in Guatemala, we were forced to shut the library. With schools also closed, students were left without learning resources, and little to no literacy opportunities were available. Our team developed remote programs to address these challenges by delivering culturally responsive Spanish-Ixil (the local Mayan language) programming via local radio and television stations. This provides access to enriching literacy and educational activities to not just our library members, but to all residents of Chajul and surrounding villages (population 48,000). We've also engaged students through virtual book clubs, and in the height of lockdowns, we delivered books to kids' homes. Our flexible approach allows us to continue providing youth with educational opportunities to build knowledge and inspire them to persist in their education, despite the increased difficulties of the remote learning environment.
When we learned that we won the 2021 UNESCO Literacy Prize for our remote programming, we were elated. Not only because of the tireless efforts of our Guatemalan team who are extremely dedicated to our scholars, library members, and the community as a whole, but also because it acknowledged the beautiful culture and heritage of the Maya Ixil people. As we are in the final stage of raising funds to build our own girl-centered school scheduled to open in January 2022, we believe that this prize is indicative of many more good things to come.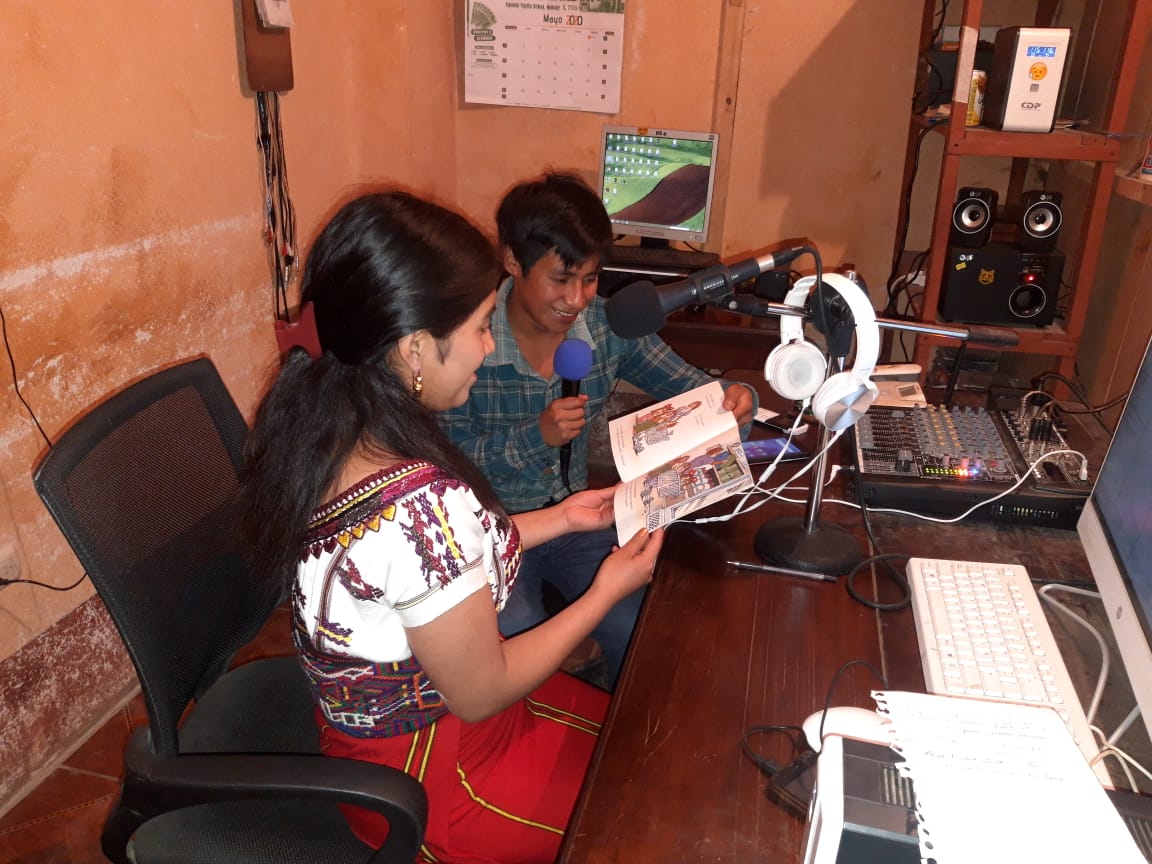 Students practice reading together. Photo credit: Limitless Horizons Ixil.
About the Author
Katie Morrow, Executive Director & Co-Founder of Limitless Horizons Ixil, grew up in California and earned her bachelor's degree in community studies from the University of California Santa Cruz when she was 18. After working and traveling around the world, Katie studied social work with a focus on international communities and completed her Master of Social Work from San Jose State. After Katie's first visit to Chajul in 2003, she was compelled by the beautiful culture and generosity of the people, juxtaposed with the lack of educational opportunities, particularly for girls. She saw within these girls, who were living in intense poverty, the desire and motivation to continue their education. Katie has spent a significant part of each year since then in Guatemala working alongside locals from Chajul to bring new opportunities to the community through education and community development. Katie has also led over 50 service-learning trips across Latin America since 2003, helping youth and adults gain appreciation for new cultures and bringing service projects to communities in need.