Author

Nurturing Minds

Published

03/15/23
After several months of planning, preparing lessons, and collaborating with Nurturing Mind partner SEGA (Secondary Education for Girls' Advancement) faculty and many volunteer workstreams, the first-ever STEM Adventures at SEGA science enrichment program happened at the school from June 19 – 29, 2022. The Nurturing Minds' STEM Committee and SEGA faculty designed and developed the program. It featured program and lesson content contributions from various STEM experts among volunteers, including professionals in education, biomedical research, medicine, environmental science, and pharmacology. Eleven volunteers from across the US made the trip to SEGA for the program, bringing needed equipment, science lesson materials, lab resources, and even a weather station.
From leaf chromatography to solar energy and heat experiments to testing and exploring via extended microscope sessions in the labs, the students had an experience in physical science scenarios. Combining the excitement of new STEM experiences while drawing on their foundational knowledge, the students could have hands-on experience while exploring new angles on science topics with their classmates in various fields and classroom experiences. Underlying every lesson was a reference profile and discussion on African women scientists from across the continent, representing fields as diverse as energy/environmental conservationists to hematologists.
The STEM Adventures at SEGA Curriculum included the following sessions for all Form I students:
Weather Station & Barometer
Solar Energy Light and Heat
African Women Scientist Biosketchs
According to the UNESCO Science Report, women account for only 33% of the world's researchers, still occupy fewer senior positions than men at top universities, and only 12% of members of the national science academies are women. This year's global awareness event, International Day of Women and Girls in Science, held on February 11, 2022, featured "Equity, Diversity, and Inclusion: Water Unites Us" and marked the 7th celebration since its inception in 2015. It was a significant effort to empower women and girls to pursue STEM studies and careers, advocate for inclusivity and diversity in STEM disciplines, inspire girls by showcasing women role models in innovation, and mobilizing partners to promote gender equality in the field of science - and aligns with the goals of the STEM Adventures at SEGA program.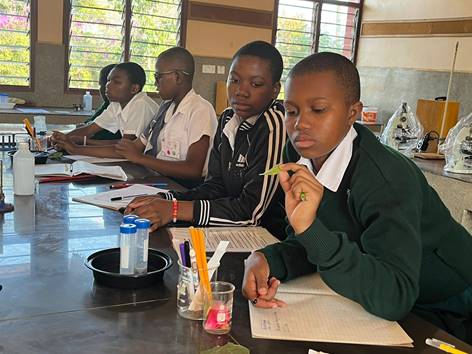 During the exploration walks and related activity, students chose a natural object, then made "I notice" statements out loud with a partner and with the group. They do the same with "I wonder," questions, and "It reminds me of" connections. // Photo credit: Nurturing Minds.

The 2023 STEM Adventures at SEGA program is in the works and needs volunteers! If you want to travel to SEGA Girls' School in Tanzania and volunteer with Form 1 students from July 22 - August 3, 2023, please get in touch with us at
[email protected]
and
watch our video
to learn more!