Author

Gabriela Corbera

Published

09/24/15
Fueling Youth with the Millennium Campus Network

by Gabriela Corbera

Oftentimes we think of development as a space for graduate practitioners or professionals with years of experience. But what about youth?



Sam Vaghar, Executive Director of Millennium Campus Network (BNID's featured organization of the month for April 2015) has dedicated his entire career to working with youth in international development. Through his platform, Vaghar has created an innovative space for youth to tackle the problems of global poverty and work towards the UN Millennium Development Goals.

The Millennium Campus Network (MCN) is a national non-profit network of university student organizations. Currently MCN is affiliated with 70 member organizations on 30 campuses in four distinct districts – Boston, Chicago, New York, Washington D.C., and soon, Liberia. MCN dedicates itself to rethinking the paradigms of perpetuated inequality through global leadership. However, it is only able to do so under the inspiring leadership of Sam Vaghar.
MCN was founded in 2007 at Brandeis University. Vaghar recalls, "In high school, I was quite shy, hadn't found my voice. When I went to Brandeis, I really changed." Two books in particular affected then 19 year-old Vaghar; Jeffrey Sach's, End of Poverty, and Dr. Paul Farmer's, Mountain Beyond Mountains. Compelled and inspired about social change, Vaghar called Jeffrey Sachs two days later and told him,
"I don't have all the answers, but I know our generation can do more and I want to be a part of that solution."

While Vaghar was currently an International and Global Studies major, his meeting resulted in the creation of MCN. At Brandeis, Vaghar and his classmates raised $5,000 for bed nets to prevent malaria and partnered with six different organizations in the Boston area on clean water projects.
Six months later, the first Millennium Campus Network hosted 1,000 students in an event that included appearances by Jeffrey Sachs, Paul Farmer and John Legend, who all currently serve on MCN's Advisory Board along with a few other icons from the United Nations, and Ministry of Finance of Timor Leste and Jenzabar.

The Millenium Campus Network hosts annual conferences and fellowships. Fellowships are open to university students who are current leaders in their home universities and whose institutions are contributing to social change. The eight-month fellowship offers students to meet twice a month and participate in an online webinar series, giving them a platform to work together.
The Millenium Campus Network has shaped the leadership of many successful alumni including professionals who are now teaching creative design in South Africa, delivering medical supplies, or setting up pharmacies in Africa. Vaghar talked about the impact youth can have on development issues: "There's enough stories out there, we just need to tap into those stories, and connect them to the broader generation, and leverage the resources and support for what's already working."
Vaghar also discussed the idea of turning the Millenium Campus Network into a political force. "The idea that people aren't trying to shape policy really frustrates me," says Vaghar. Vaghar envisions MCN partnering with communities and participating in policy efforts in Washington in the near future.
While Vaghar does not consider himself as an avid practitioner, he is a passionate leader committed to international development. His advice for rising development professionals is to "never be afraid to talk to anyone." Vaghar says he follows this advice daily and it has allowed MCN to grow. He also suggests valuing "people as people, yet understand their complexities." Among other suggestions, Vaghar thinks that getting out of "mental models" as Jim Kim, President of the World Bank, says, is vital for development practitioners, who need to assess their communities' needs through outreach, not by guessing or making assumptions.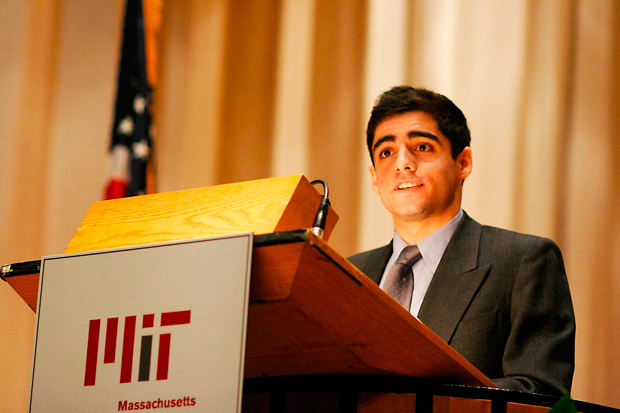 Vaghar says that community cultivation is among the most rewarding results of development work. "Development allows you to travel and understand the world, and what you'll find is people want really simple things," says Vaghar.

While there are many rewards in development, there are also many challenges in the field. Vaghar points to the "white savior complex" among them. "People are in development for different reasons." Sam believes we should learn about ourselves, our work, and why it is we are doing it. "Sometimes, people miss that point," says Vaghar.

Development for Vaghar is much more than development but a lifestyle one carries, "It's not just what you do for work, but how you live your life. International development is an extension of that."

The Millennium Development Goals will expire this year, so the Millennium Campus Network will have to review its own goals while keeping to the efforts that the international community is focusing on. Vaghar told us the organization will launch campaigns for 17 proposed Sustainable Development Goals, including Sustainable Development Goal 16 and Sustainable Development Goal 17 .

This year, the Millenium Campus Network annual conference will be held at the United Nations in New York City from August 11th to August 15th. Students can look forward to debates between public and private sector representatives as well as discussions on volunteerism among other topics. According to Vaghar, youth from more than 50 different nations will participate.

So, whether it's attending the MCN Conference, or meeting an MCN Fellow, the Millennium Campus Network works to create a space and fuel a student movement for international development. The call to action is now.
For more information on the Millennium Campus Network, please visit: http://www.mcnpartners.org/