Author

Anne Cheung

Published

03/04/22
As a Peace Corps Volunteer living in a remote village in Cameroon and teaching high school science, my dear friend, Anne Rapin, recognized the injustices faced by girls and women. Less than 10% of students in her upper-level science classes were female. She discovered that there were several common reasons for this disparity. In families with limited finances, parents often chose their sons over their daughters to attend school, since it's thought that boys have more potential. This can result in the girls getting married off, as young as age 13 and 14, so that their parents are no longer responsible for supporting them. Additionally, if a young woman becomes pregnant in Cameroon, she is automatically kicked out of school. In fact, Anne had discussions with her students arguing that women had the same potential as men, and a young woman responded that she was wrong and "boys were better."
It was these stories of injustice that compelled Anne and me to start a scholarship program for girls in Cameroon called A2Empowerment. It began in 2008 with the mission of providing educational scholarships and support to girls and women so that they may increase their knowledge and empower themselves to lead healthier, more productive lives. We worked with Peace Corps Volunteers to mentor 17 high school students in one region of Cameroon in the first year, and the project has since grown organically to work with Cameroonian mentors and award more than 2,000 total high school scholarships across the country. The organization has also awarded several university scholarships and experimented with social entrepreneurial programs over the years.
A2Empowerment collects survey information from students and mentors to monitor progress and solicit feedback to continue to consider improvements, so we know that most of the students would not be in school without this scholarship opportunity and the program allows students more time for studying and extracurricular activities, since they don't have to work, or work less, outside of school to pay for school costs. Although these data are compelling, it is the individual stories of success that continue to motivate us. After sometimes difficult discussions with their fathers, several times young teenage girls got out of arranged marriages because they received the scholarship. Over the years, multiple young women who dropped out of school due to pregnancy were brought back and able to complete their high school education. One father said it is because of the scholarship that his daughter is independent and can buy her own soap and bread. Another young woman, an orphan who had a very difficult childhood, said that the scholarship was the only good thing that has happened to her.
The success of our program has resulted in the growth of deep roots in Cameroon that now allow A2Empowerment to transition to our next phase where alumni assume leadership. Currently, Grace, an alumnus of the program who went on to complete her master's degree, is enthusiastically paving the way for the next phase of A2Empowerment. She organized a leadership board, made up of scholarship recipients, alumni, and mentors, that is forming an A2Empowerment entity in Cameroon to gradually take on responsibility for leading the organization. This more sustainable model will provide alumni the opportunity to take the organization in a direction that they know best to help others realize their goals while providing an opportunity for independence through salaries.
To continue following A2Empowerment's journey through this transition, please visit our
website
to sign up for our
newsletter
.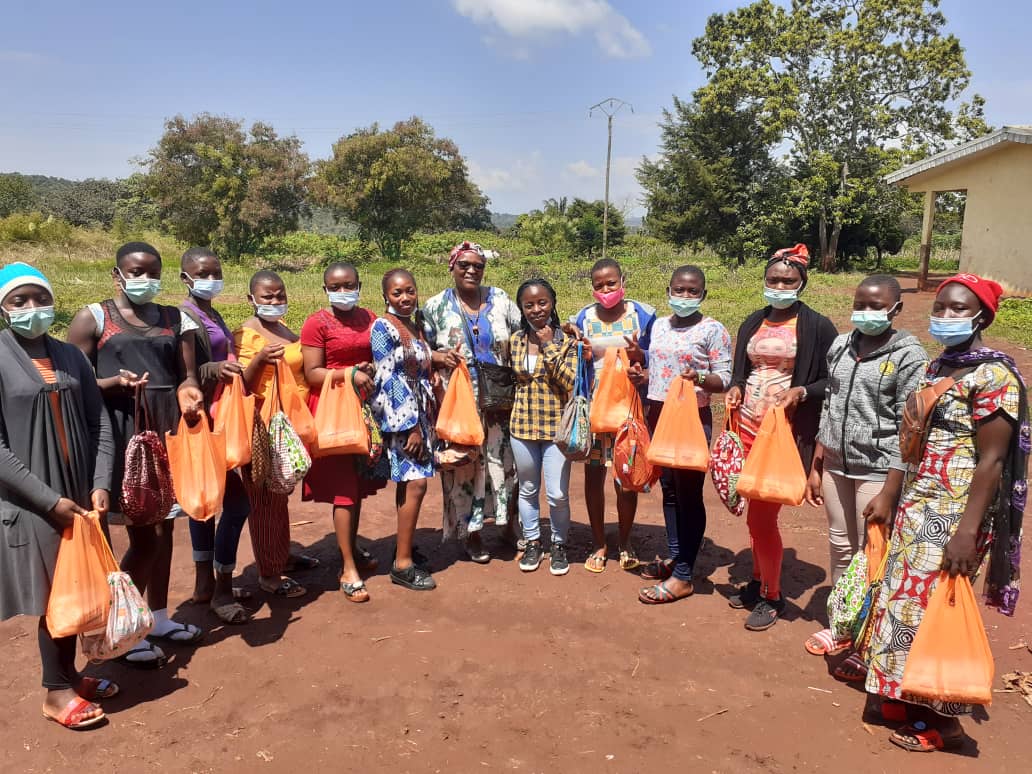 Group photo of scholarship recipients with their mentor, Florence (center), and alumni, Olive and Grace (left and right of Florence, respectively), during a site visit in Bamena, Cameroon, where students participated in workshops on menstrual health and nutrition. Photo courtesy of Grace Sop.

About the Author
Anne Cheung is a nonprofit leader with a background in science, co-founding and leading A2Empowerment while pursuing a career in biotechnology. She holds numerous honors for her volunteer work. Please connect with her on LinkedIn!