Author

Ariel Derby

Published

03/09/22
International Women's Day–a time to reflect, to support, and to celebrate the incredible accomplishments of women and all we contribute to society.
This year's International Women's Day theme, #BreakTheBias, challenges to us "imagine a gender equal world. A world free of bias, stereotypes, and discrimination. A world that is diverse, equitable, and inclusive." At Empowered to Educate, not only do our Fellows break biases by pursuing their professional aspirations; they also forge the path towards a gender equal world by empowering women and girls in their communities.
At Empowered to Educate, we believe that female empowerment is the key to breaking the cycles of poverty and powerlessness that prevent communities from thriving. Luckily, there is an obvious solution: education! When women are educated, they use their skills to attain positions of leadership, and from there, they find creative solutions for community problems and make widespread change.
Take, for example, Saudatu, one of our Empowered to Educate Fellows in Ghana. After graduating from Ashesi University, Saudatu was eager to return to her community to address an issue near and dear to her heart: empowering vulnerable teenage mothers. She does this through career development by supporting them to either go back to school or learn a skill.
In the Northern Region, teenage pregnancy rates are high, and young mothers are often forced to drop out of school and get married. When this happens, teen mothers lose financial independence and miss out on earning degrees that open up future job opportunities. To combat this, Saudatu founded an organization called LifeAgain, which provides young mothers with mentoring, sex education, contraceptives, and scholarship to attain higher education or enroll in vocational school.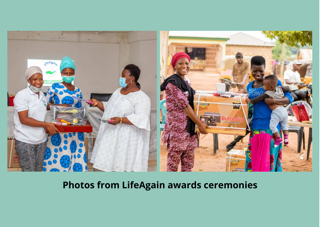 When Saudatu applied to Empowered to Educate, she had established her organization, but needed support to achieve her long-term goal of empowering 1,000 teenage mothers by 2025. We provided that support in 5 ways:
Connections with successful mentors in her field
Global recognition and connections with new donors
Two micro-grants to fund LifeAgain's initiatives
A network of peers with whom Saudatu has consulted and collaborated
When Saudatu was asked to describe why her program matters, this is what she said:
"If teenage mothers are provided with mentoring, sex education, and financial support to continue pursuing their dreams, teenage pregnancy will not be a hindrance to girls education, and every girl will be empowered to ultimately end teenage pregnancy, child marriage, and poverty."
By stopping the cycle of female poverty and facilitating educational opportunities for women, Saudatu is fighting for a gender equal world. LifeAgain combats the expectation that motherhood prohibits careers, and in doing so, it #BreaksTheBias against struggling teenage mothers.