Author

Cecilia Needham

Published

08/14/22
On August 14, 2021, 26-year-old Andremerne from Anse-à-Veau, Haiti was four months pregnant. At 8:29 AM, the ground shook from a magnitude 7.2 earthquake. Fortunately, Andremerne and her unborn child survived. However, the earthquake decimated the village health center, leaving her without access to basic healthcare in the most crucial months of pregnancy.
Andremerne's story is one shared by many expectant mothers in Haiti's southern Peninsula. The earthquake damaged or destroyed over 55% of health care facilities across southern Haiti, leaving hundreds of thousands of survivors without access to even primary care. It killed at least 2,248 Haitians and injured 12,200 more. It caused approximately $1.5 billion USD in economic damages and left 650,000 Haitians in need of immediate humanitarian assistance.
The Beverly-based nonprofit organization, Build Health International (BHI), was founded in the aftermath of a similar tragedy: the devastating 2010 earthquake which shook Haitian capital Port-au-Prince and beyond. The disaster highlighted the chasmic gaps in Haiti's healthcare and the need for accessible, comprehensive, and seismic-proof health infrastructure. BHI's first project, Hospital Universitaire de Mirebalais (HUM), redefined what was possible for designing and building healthcare infrastructure in low-resource settings.
August 2021 was a somber reminder of the tragedy over a decade ago. Yet, unlike 2010, the healthcare system in Haiti in 2021 was better equipped to respond with more healthcare professionals and spaces to deliver advanced, dignified, and equitable care. None of the 60 healthcare infrastructure projects BHI had worked on in Haiti over the last decade sustained significant damage, as they were intentionally designed with seismic considerations in mind. Co-Founder and Managing Director Jim Ansara reflected, "This latest crisis reminds me why BHI exists and was established in the first place - to build healthcare infrastructure that can weather any storm or temblor - and be a safe haven where patients can be healed and treated with dignity."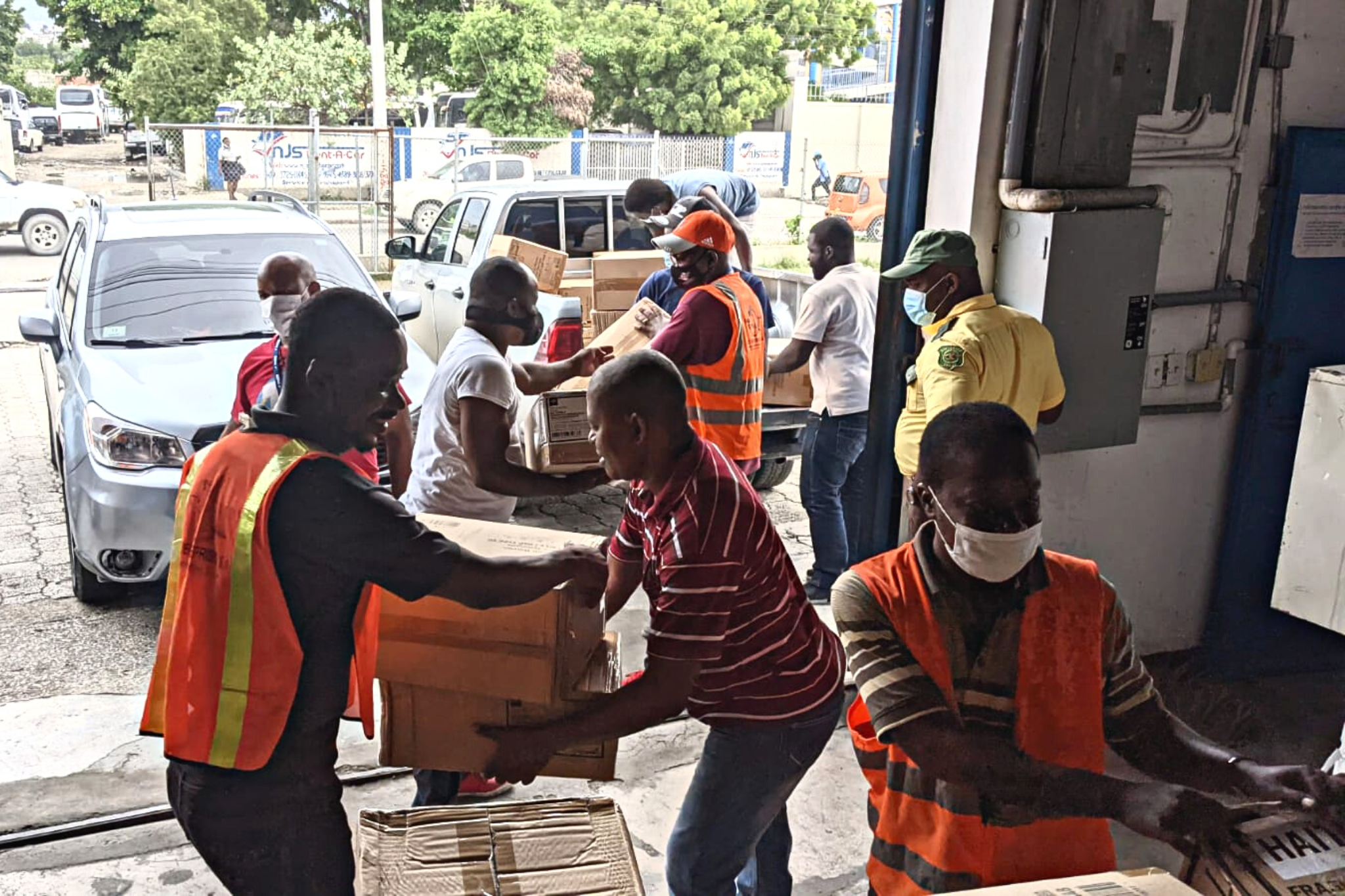 Image Credit: Build Health International

As early as the afternoon of August 14th, BHI's team of engineers, architects, and local specialists mobilized to deliver immediate relief and infrastructure solutions. BHI provided structural assessments, repairs, and critical medical supplies. The organization coordinated with over forty in-country and international partners, including Governor Charlie Baker and the New England Patriots, to deliver 148,000 pounds of medical equipment, some on the Patriots Plane, to partners on the ground such as Health Equity International and Partners in Health. Senior Director of Engineering and Construction, Omar Hernandez, noted, "Those who were critically injured and seeking care could find it at HUM, St. Boniface Hospital, and other facilities built and expanded by BHI and our partners that did not exist in 2010."
Andremerne was one of those patients. Only a few weeks after the earthquake, HEI launched five mobile clinics from St. Boniface Hospital, the largest hospital in Southern Haiti. Since the 2010 earthquake, BHI has completed extensive work with HEI such as a maternal health center, center for infectious disease and emergency care, surgical center, and more. The mobile clinic where Andremerne received prenatal and postnatal care for herself and her baby was stocked with medical supplies provided and delivered by BHI and other NGO partners. She expressed, "I'm truly happy we still have the mobile clinic in Lièvre because without it I would not have the opportunity to see a doctor with my child to know if his health is good." BHI, HEI, and other BNID partners make this type of care possible through both sustainably strengthening healthcare infrastructure over the long-term so that they are able to effectively mobilize humanitarian aid when necessary.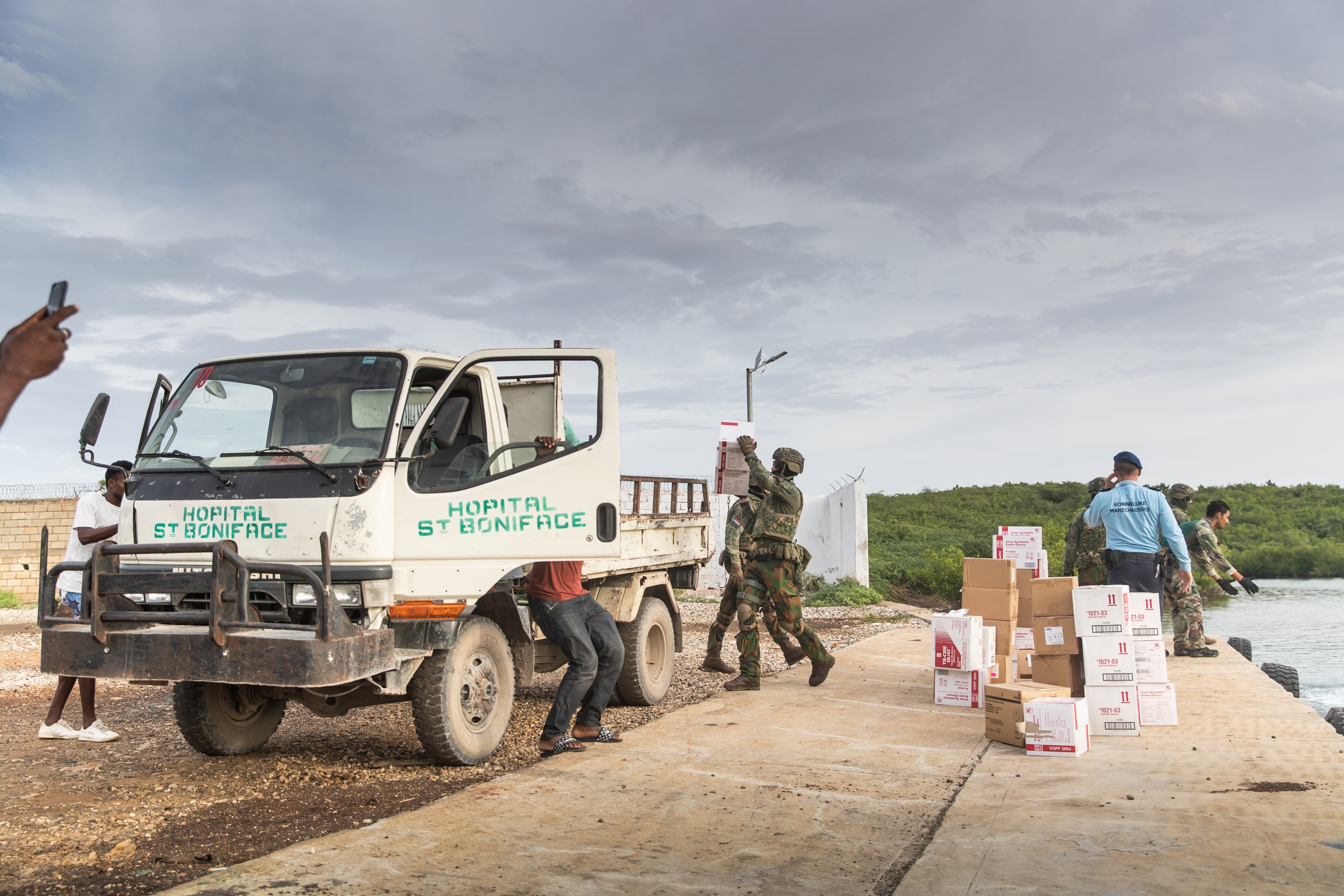 Pictured: Boxes of critical medical supplies are loaded by BHI employees and Netherlands Navy personnel to be rushed to SBH and HEI mobile clinics. (Credit Netherlands Navy, Courtesy of Build Health International)

About Build Health International
Build Health International (BHI) is a design and build nonprofit focused on healthcare infrastructure in low-resource settings. BHI develops dignified care spaces and solutions that elevate the quality and accessibility of healthcare worldwide. Working closely with Ministries of Health, partner organizations, and local workforces, BHI promotes sustainable design, empowers communities, and enables access to dignified and affordable healthcare in some of the world's most vulnerable communities.

About the Author:
Cecilia Needham is a Development and Communications Intern at Build Health International. She is a senior at Middlebury College studying Global Health and Global Security. At Middlebury, she is a Social Entrepreneurship Fellow and has received awards including the Hoskin Research Fund and Cross-Cultural Community Engagement Grant for her work and research in Mirebalais, Haiti. Cecilia is passionate about global health equity and health as a human right, particularly in Haiti.