Author

BNID Staff

Published

07/24/22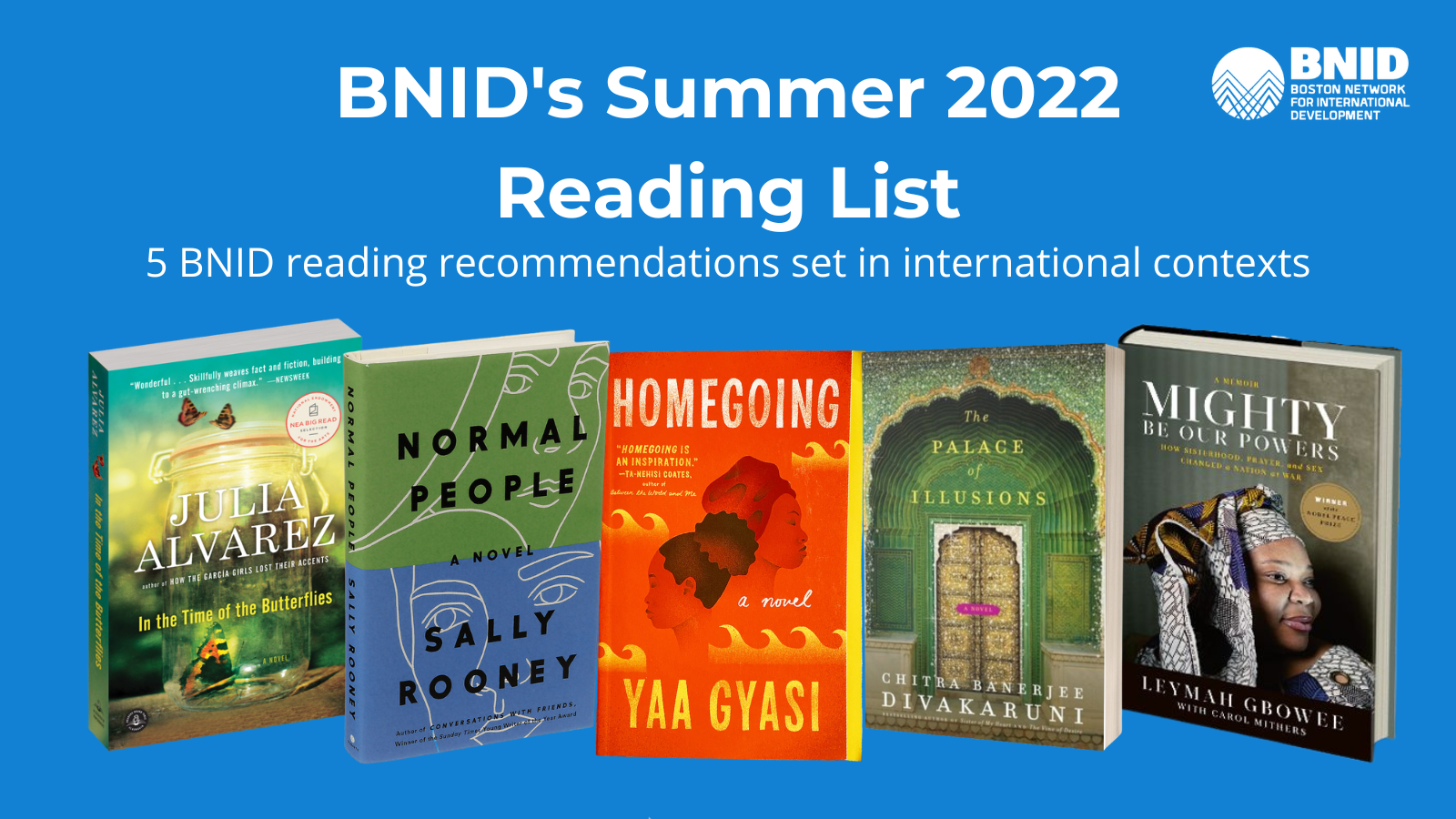 Whether you're camped out on a tropical beach or nestled at home on the couch, summer is the perfect time to indulge in your new favorite book. At BNID, we're traveling the globe through the pages of the following books that have been hand-selected by our staff.

To pick up a copy, show your local library some love or consider supporting an independent bookstore. Trident Booksellers & Cafe, Porter Square Books, and Brookline Booksmith are all great options in the Greater Boston area.

Join us as we travel the world and learn about new cultures! Email [email protected] to let us know what you think.

NORMAL PEOPLE - SALLY ROONEY

Set in Ireland, follow the lives of Connell and Marianne as they navigate early adulthood and reconcile their pasts. A lusty romance between polar opposites develops into a complicated, but beautiful friendship. Read Sally Rooney's second novel to find out if love can transcend social class and the turbulence of the real world.

THE PALACE OF ILLUSIONS - CHITRA BANERJEE DIVAKARUNI

Based on an Indian epic, the story of Panchaali is told through an artful display of both history and myth. As the wife of the legendary five Pandavas brothers, Panchaali navigates a life that has been defined by fate. Told from the onset of her birth, follow the course of Panchaali's life to see if her destiny amounts to heroism or tragedy.

IN THE TIME OF THE BUTTERFLIES - JULIA ALVAREZ

Based on a true story, meet the Mirabal sisters who each have their own way of fighting the oppression and corruption of the Dominican Republic's ruthless dictator, Rafael Leónidas Trujillo Molina. Love, family, and ultimately loss– In the Time of the Butterflies is a harrowing story that shows the power of ordinary women who were willing to make the ultimate sacrifice for the sake of their country.

MIGHTY BE OUR POWERS: HOW SISTERHOOD, PRAYER, AND SEX CHANGED A NATION AT WAR - LEYMAH GBOWEE

Best known for organizing a sex strike that allowed women to participate in peacebuilding and openly oppose the Liberian civil war, read Leymah Gbowee's memoir to learn about the circumstances and sacrifices that created a phenomenal changemaker. This pivotal story is a requirement for Executive Director Nanako Tamaru's class at The Heller School.

HOMEGOING - YAA GYASI

Through exquisite language, Yaa Gyasi's first novel tells the story of two half-sisters and their descendants. Effia is married to an Englishman who profits from the slave trade that imprisons and forcible transports Esi to America. Told over the course of 300 hundred years and several generations, Homegoing is a book about systemic oppression and heritage that you won't want to put down.