Author

Maria T. Madison, ScD

Published

02/19/22
"In 1926, Dr. Carter G. Woodson initiated the celebration of Negro History Week, which corresponded with the birthdays of Frederick Douglass and Abraham Lincoln. In 1976, this celebration was expanded to include the entire month of February, and today Black History Month garners support throughout the country as people of all ethnic and social backgrounds discuss the black experience. The Association for the Study of African American Life and History, ASALH, views the promotion of Black History Month as one of the most important components of advancing Dr.Woodson's legacy." Marvin DeLaney, President, ASALH.
***
In 2015, students from across the campus of Brandeis University demanded the institution address issues of structural, psychological, and behavioral discrimination, building on decades of activism and similar movements. They knew institutions of higher education must model the structural changes required of society. They knew they had to raise the clarion call for equity, belonging, social solidarity and a diverse community mirroring the general population.
The students requested the creation of the post I've held since 2017, Associate Dean for Equity, Inclusion/Belonging and Diversity, EID, at Brandeis's Heller School for Social Policy and Management for graduate students. Within this role my team and I work across the community to promote belonging and inclusion through education, training, curriculum and global cultural awareness events, workshops, and courses. We strive to create a thriving community that mirrors the diversity of voices and individuals in the world. We track our progress through climate surveys, course evaluations, and faculty activity reports. Our philosophy is that everyone at the school is a member of the EID Counsel. Every academic program within the school needs to have a standing agenda item advancing routine discussion and progress on contextualizing and embedding anti-discrimination pedagogy, research, and policy.
Numerous sources emphasize why this work is important, including for example "The Black Agenda, Bold Solutions for a Broken System," edited by Anna Gifty Opoku-Agyeman, or Heather McGhee's The Sum of Us. Opoku-Agyeman's collection of authors are aligned with McGhee's summation, we must overcome our biases and blind spots to combat threats in climate, health care, wellness, education, technology, criminal justice, the economy, and public policy. What is needed is a solidarity dividend, where we recognize our destinies are interdependent, reliant on the contributions of and respect for all cultures to achieve a sustainable healthy equitable future.
Our interdependence is magnified through the current COVID19 era, where we must rely on each other to suppress contagion. That should be our common purpose, our ikigai, our ubuntu. Yet, through this era we also see political dissension, "insurrection" or "ordinary citizens engaged in political discourse"? We see health care inequities and differential morbidity and mortality. Leaders downplay Black contributions to how treatments evolved rapidly. For example, related lifesaving biomedical advances were made possible through exploitation of Henrietta Lack's human cells [HeLa cells] revolutionizing biomedical research or Julian Percy's invention of synthetic cortisone, where steroids are an essential part of an arsenal used to address COVID. Even the spirometer providing essential lung function information during COVID, has a racialized history that should be taught and challenged. In its origin and continued use, the spirometer's correction for race was developed based on corrupt views of enslaved people's physiology, aimed at justifying slavery.
Institutions should build informed, diverse communities, acknowledging and teaching multicultural history, raising up policies that promote civil society, human rights, and equity. I believe that is the compelling essence of Carter G. Woodson's vision. Ubuntu. Ikigai.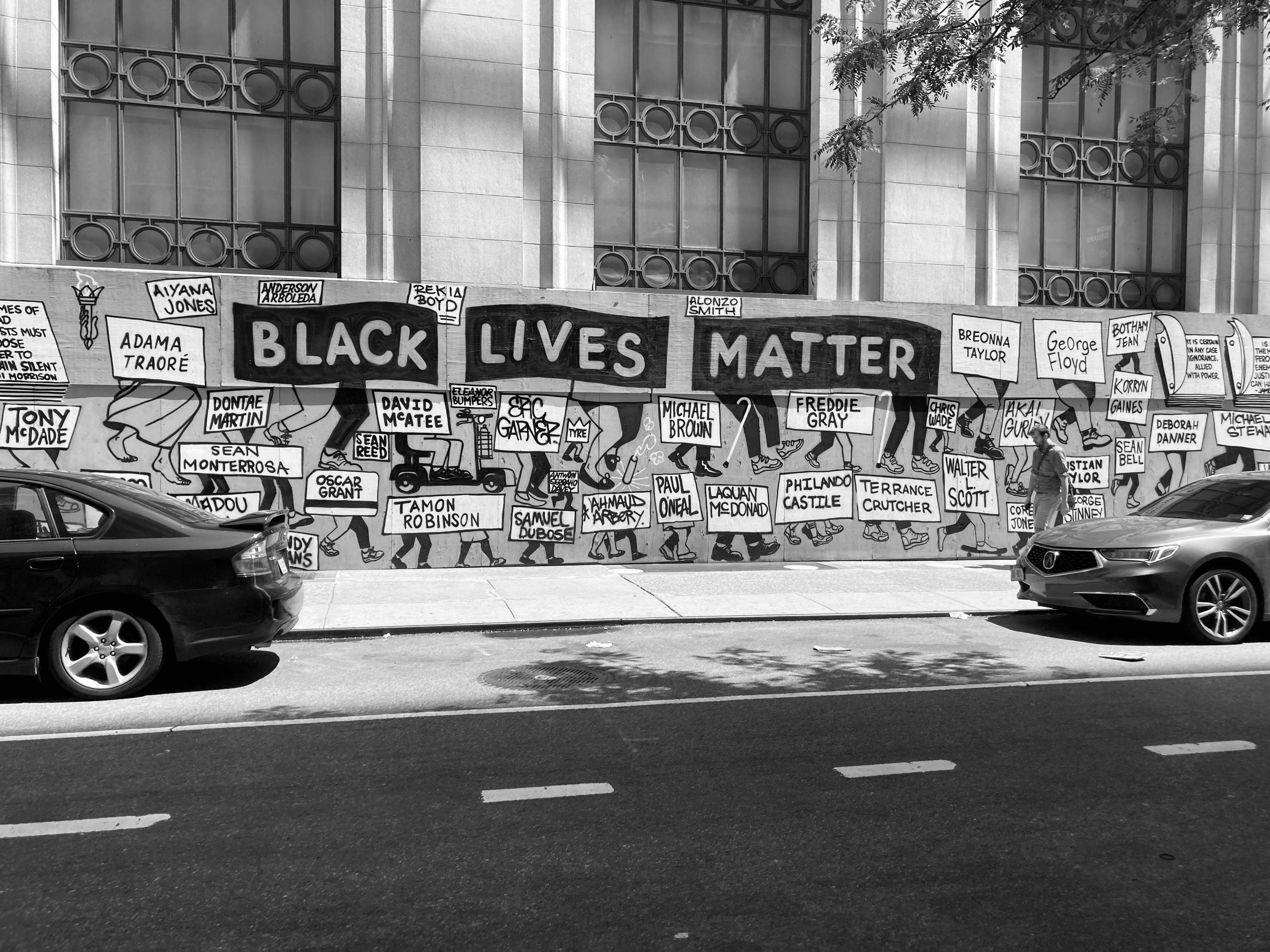 Black Lives Matter wall in New York flatiron neighborhood.