Author

Jezabel Aponte, Nandita Ganesan, Shriya Singhvi, Adelynn Martin

Published

03/07/23
Women's mentorship and collaboration through transdisciplinary approaches is key to advancing access to innovation and technology. This principle is at the core of The Women's Research and Mentorship Program (WRAMP) from the office of Pre-Collegiate Outreach Programs at Worcester Polytechnic Institute. WRAMP empowers and supports women in STEM through a multi-tiered mentor program and hands-on WPI graduate research. Within this program, teams of four are created, including one graduate student, one undergraduate student, and two high school students. For four months, teams work on a research project, develop mentorship skills, and participate in professional advising.

WRAMP brought us together: Nandita, 15, an aspiring veterinarian; Shriya, 15, an aspiring biomedical researcher; Addy, 20, a computer science student; and Jezabel, 24, a global development student, to research sustainable and low-cost technologies to contribute to access to sanitation in East Africa. Sanitation is defined as the "access to, and use of, excreta and wastewater facilities and services that ensure privacy and dignity, ensuring a clean and healthy living environment. As of 2020, only 54 % of the world's population used a safely managed sanitation service, with the lowest coverage rate in Sub-Saharan Africa, (21%), Latin America and the Caribbean (34%), and Central and Southern Asia (47%). The effects of exposure to poor sanitation have been well-studied, and clear links have been drawn between low sanitation coverage and poor health.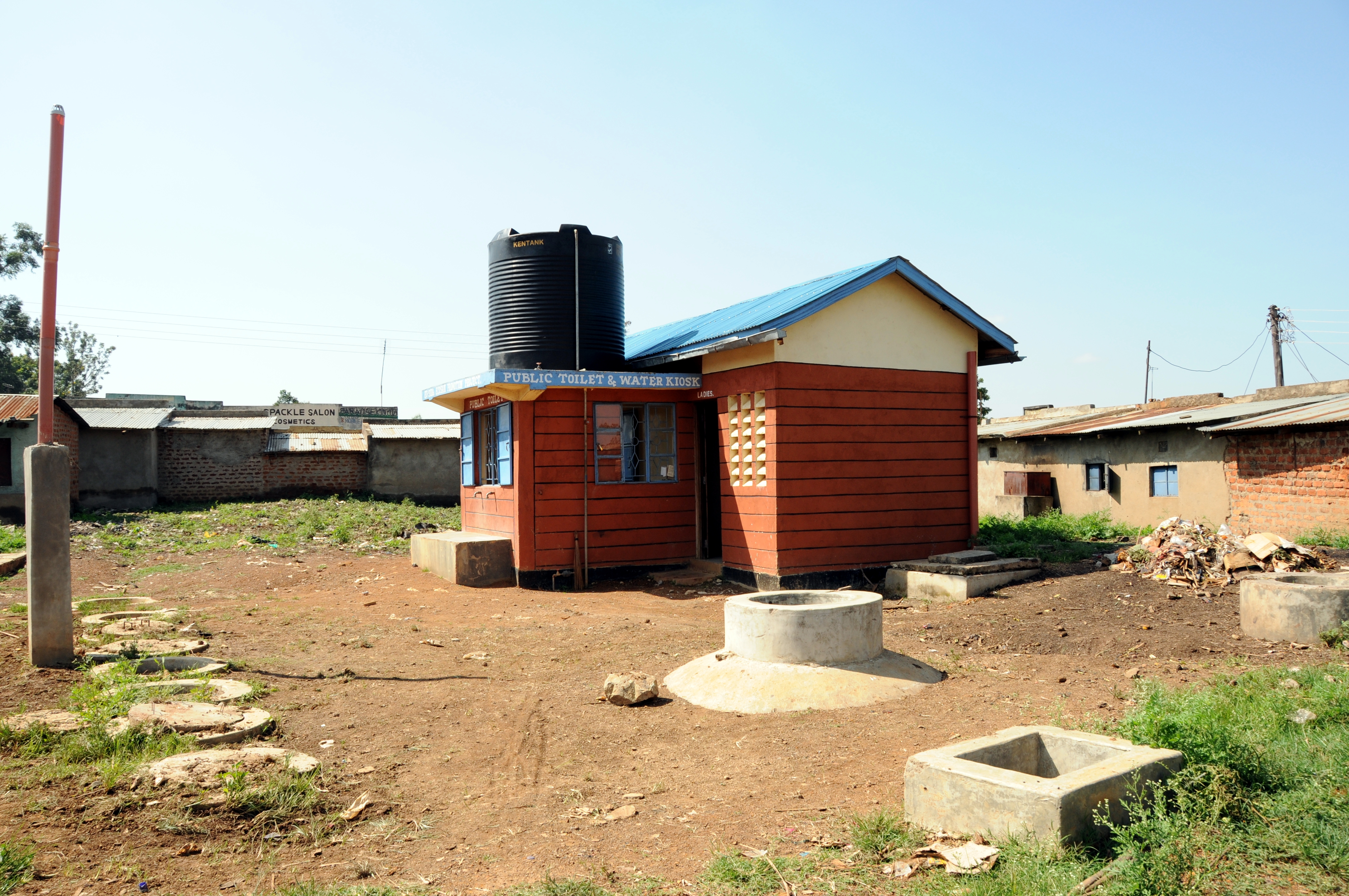 "Public toilet linked to DEWATS at Ugunja market"// Source: SuSanA Secretariat
Women and girls are particularly vulnerable to diseases in environments with low sanitation coverage. According to FIGO, the International Federation of Gynecologists and Obstetrics, "An estimated eight percent of maternal deaths (and up to 15 percent in [low- and middle-income countries]) can be directly linked to unhygienic conditions during labor and birth and poor postnatal hygiene." Proper hygiene and sanitation are crucial to decrease mortality rates, provide a safer environment for women and children, and improve menstrual health. Yet, the lack of initiatives to support locally-led sanitation and locally developed technologies halts much development in countries in East Africa, reducing opportunities for countries to implement low-cost waste management technologies for civilian use. We found that micro flush toilets have the potential to become a viable alternative to address the sanitation challenge; this type of toilet separates solids and liquids and converts organic waste into fertilizer that can be used for soil improvement in agriculture. Although there are multiple examples of technologies that improve access to sanitation, many are not accessible for countries in the global south. Thus, we are researching a design model that becomes accessible and sustainable; in other words, a type of technology that can be built and managed by trained locals.
As we progress on our research project, we continue to empower each other and build confidence in our potential to make a difference. For us, WRAMP became a platform for leadership, purpose-driven research, and transdisciplinary collaborative work. Our interest in research is not the only thing that brought our group together; it was also our readiness to take part in the construction of equitable spaces for women and girls, and the belief that when women learn and work together, we unleash great potential.

About the WRAMP Program:

https://www.wpi.edu/news/announcements/women-s-research-and-mentorship-program-wramp-mentor-applications-open
About the Authors


From left to right: Addy, Shriya, Nandita and Jezabel

Nandita Ganesan: I am a sophomore at Westborough High School and am interested in pursuing a biology degree and using it to become a veterinarian. WRAMP is a great opportunity for me to practice research skills as well as a great environment to learn more about topics that interest me.
Shriya Singhvi: I'm a sophomore at Westborough High School and am interested in pursuing biology in college. The WRAMP program is the perfect place for me to explore and learn how to conduct research and hope to continue researching in the future. I plan to use my interests and strengths to help make a difference and assist with the project.
Adelynn Martin: I am a sophomore cybersecurity/computer science student at WPI with experience in data analytics. I plan to utilize these skills to aid with data organization with the project!
Jezabel Aponte: I am a civil engineer from Nicaragua, and graduate student in the Master of Science and Technology for Innovation in Global Development program at WPI. My research interests are Technology usage in Humanitarian Aid, Disaster Relief, and Climate Change.